Xiaomi has always come up with a Standard Edition (SE) since the Mi 8 series. However, it seems to have skipped the SE variant for Mi 10. Xiaomi has just released Mi 10 and Mi 10 Pro in 2020.
Despite no official announcement of Mi 10 SE from Xiaomi, the phone seems to have undergone a GeekBench test. Slashleaks featured a leaked screenshot of the Mi 10 GeekBench test performance. Experts claim that this is fake as there is no corresponding entry in the Geekbench database.
Below is the screenshot from Slashleaks: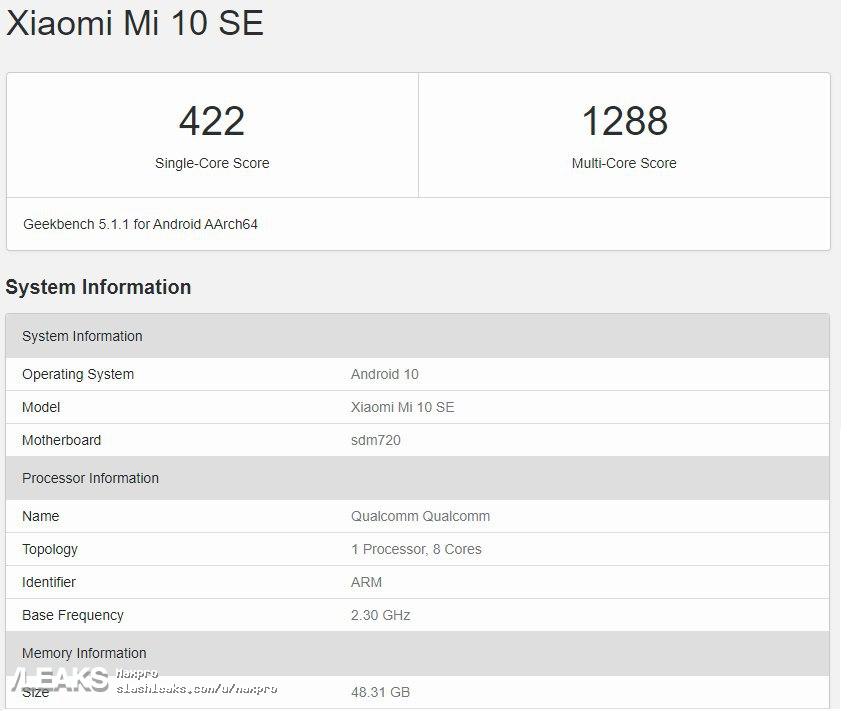 The listing shows that the Mi 10 SE uses the Qualcomm Snapdragon 720G processor. Expectant Mi customers do expect a Mi 10 SE model to be released. Xiaomi has teased its customers with a future release of a mystery phone model running on Snapdragon 720G. This could well be Mi 10 standard variant.
But the 48.31 GB RAM in the leaked GeekBench listing confirms the test to be fake as per the experts.
Xiaomi has a history of surprising its customers. It has done so in the recent past by releasing Mi 10 Lite in Europe. This time Mi 10 SE release is definitely fake since no official confirmation has been given for its presence in the market.
This doesn't rule out the possibility of Xiaomi releasing it later in 2020.