Its been three weeks after the unveiling of the new flagship device, the Galaxy Note 10 series. Much is already known about these new Android smartphones. The first official 3D renders leaked many of the functions before being announced. The Korean manufacturer has also applied for several trademarks that are related to the new Note devices. Consider the DepthVision lens and Make & Play 3D for the ToF camera.
Samsung LED illuminated may replace the Notification LED
On July 16, 2019, Samsung Electronics filed a trademark with the EUIPO (European Union Intellectual Property Office) for the name Samsung LED Illuminated. The trademark has since been approved and categorized as Class 9, 11. With the description; 'LED for displays; LED for mobile phones; LED for mobile phone flash; LED display; LED-lighting; LED headlights.
The application was submitted by Abril Abogados from Madrid, Spain. This company has often acted in the name of Samsung, so this company is also responsible for Make & Play 3D.
The exact meaning of LED Illuminated is as yet unknown. Nevertheless, we have an idea about it. Probably it is a replacement of the LED Notification, this was omitted from the Galaxy S10, due to the large screen-to-body ratio and the punch-hole camera.
The LED Notification normally displays a handy notification light as soon as you receive a message. This simple but useful function is therefore missed by many S10 users.
Note 10 will also have a punch-hole camera, which this time will be positioned in the middle. It seems likely that Samsung has developed a replacement for the Notification LED, possibly by installing LED lighting around the punch-hole camera.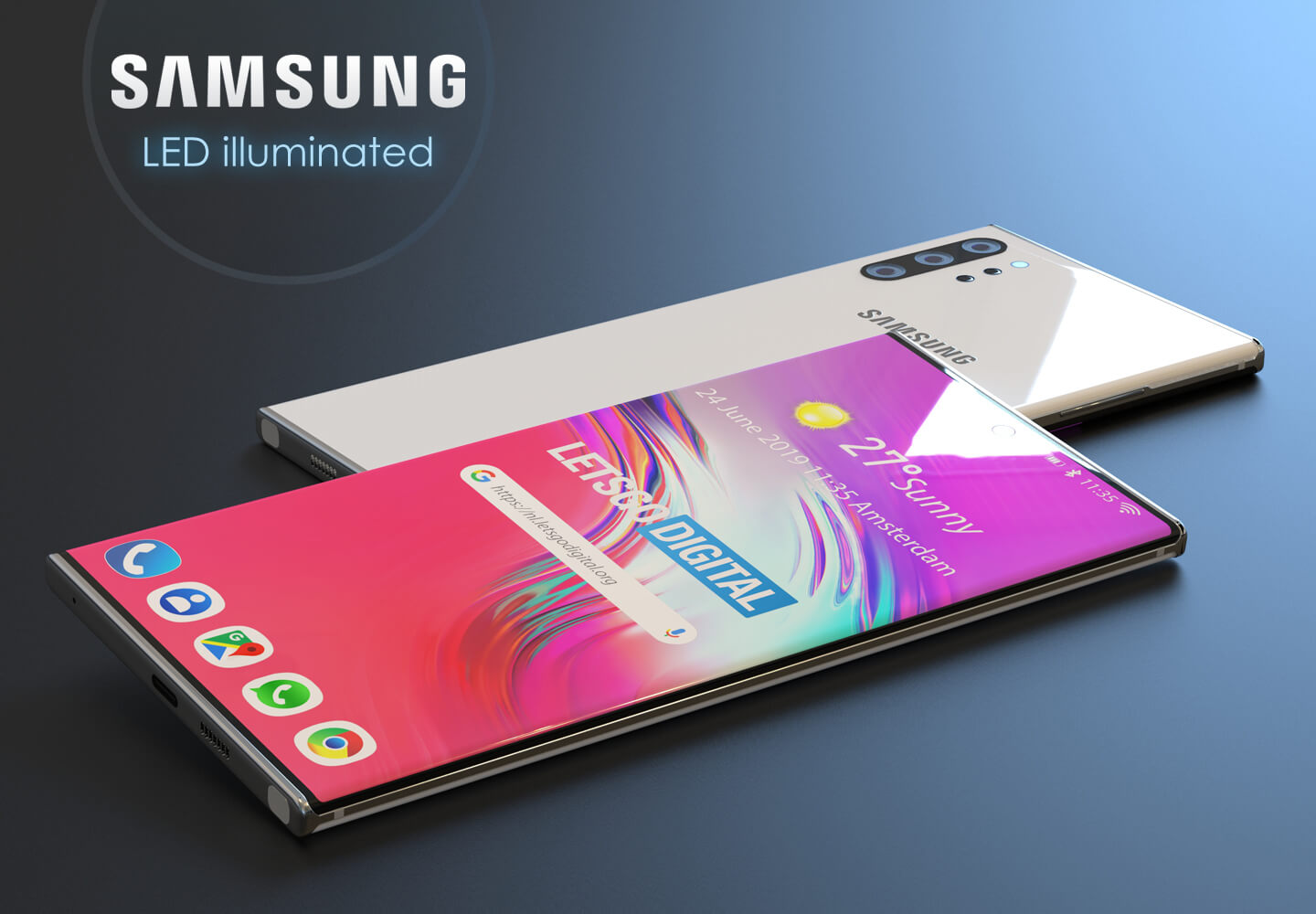 Various third-party apps are now available that illuminate the camera hole of the Galaxy S10 in a creative and convenient way.
Another possibility is that Samsung will use a renewed LED flash. However, I personally do not expect it to have anything to do with this. It also seems unlikely that Samsung will use an LED display, finally, the devices have been provided with an OLED screen for years. If it were about such a big change, there would certainly be rumors about it.
We will have to be patient, on Wednesday 7 August 2019 when the Samsung Galaxy Note 10 smartphones will be revealed. Probably Note 10 and Note 10 Plus are expected to be the 4G and 5G model.
View the trademark of Samsung LED Illuminated here.